Configurator should be downloaded directly from the i2O Portal to ensure that the latest version is obtained. First Login to the i2O Portal for your company, then click on your user name at the top right-hand corner of the screen.
From the displayed menu, select Downloads.

A list of available downloads is displayed; click Download and save the application to an appropriate location on your computer.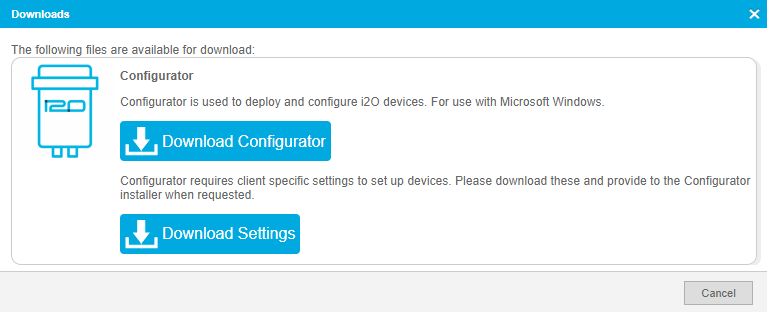 The installer will be downloaded to your computer's default download folder as a "Windows Installer Package"
After downloading, run the file and follow the instructions on the installer to install Configurator on your computer. For information on how to use Configurator, a detailed user guide is available here: https://support.i2owater.com/hc/en-gb/articles/115002733127
If you need to install Configurator on a computer that does not have access to the internet, download the Windows Installer Package from an internet-connected PC as described above, copy this file to the target PC and complete the installation process.