Overview
PRV Control is configured at the Location Level. To access control configuration parameters, select an appropriate Location on the Tree with a Remote Control Licence applied and select Configuration > Control. Note that the Control menu will not be present unless there is a remote control licence applied at the Location.
A graph shows predicted control behaviour based on historic data (single day displayed, not zoom-able).
Two groups of configuration settings are displayed, each with their own sub-groups:
Control Scheduling
Profiles
Schedule
Control Curves
Settings
Control Loop
Automatic Optimisation
APV
Each group can be opened and collapsed by means of triangular "expand" icons. Only those features available with the Licence type currently applied at the Location will be shown.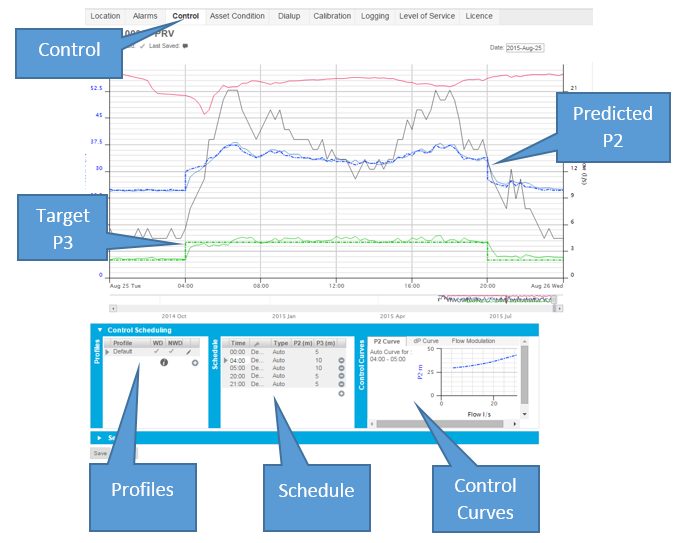 Control Scheduling
Profiles can be added to apply to working days (WD), non-working days (NWD) or both. A default profile is automatically created and may be used without any user changes if a continuous 7-day profile is needed (WD+NWD).
Schedules describe which schedule is to be applied at which time of day, and what the control type and target pressure is to be used at that time. Schedules are defined for each profile, so can be different on working and non-working days.
Control Type is selected from a list of available options, restricted by the Licence that is active at the Location:
Auto = Automatic Optimisation
P2 = Target P2
FM = Flow Modulated
Control Curves contains three tabs, each of which shows the control curve for a different Control Type. The displayed curve relates to the schedule selected in the Schedule table (as indicated by a triangular marker)
P2 Curve - Target P2 for different flow rates. Algorithm-generated.
dP Curve - Target dP (differential pressure P2-P3). Algorithm-generated.
Flow Modulation - Flow vs P2 for manual Flow Modulation Curve. Manually input by user.
Settings
Control Loop allows advanced users to tune the response parameters for particular PRV or pressure/flow conditions. For most applications the default parameters should be used.
Automatic Optimisation settings are related to minimum/maximum and fail-safe values, and automatic reduction profile.
APV settings allow for adjustment of APV motor speed and an optional PRV Headroom function.